Cats have been a popular household pet for centuries, and the Siberian cat has recently gained popularity for its stunning appearance and unique personality. If you're considering getting a Siberian cat as your furry companion, there are a few things you need to know. This article will dive into all the details about Siberian cats, such as their origin, appearance, temperament, and care.
Origin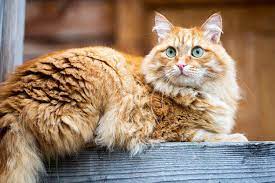 The Siberian cat is native to Russia, where they have been around for centuries. They are a natural breed, meaning they developed without any human intervention. The breed almost went extinct in the 20th century due to World War II, but breeders worked hard to bring them back, and they are now one of the most beloved cat breeds. Siberian cats are also known as the Siberian Forest cat.
Appearance
Siberian cats are known for their thick, luxurious fur coats that come in a variety of colors. Their fur is also hypoallergenic, which means they produce fewer allergy-triggering proteins, making them ideal for people with allergies. They have almond-shaped eyes that can be green, blue, or other colors. They are a medium to large-sized cat, with males weighing between 12-18 pounds and females weighing between 8-12 pounds. Siberian cats have a strong, muscular build, which allows them to be skilled hunters.
Temperament
Siberian cats are one of the friendliest and affectionate cat breeds. They love being around their owners and are known for their playful and curious personalities. Often, they will follow their owners around like a dog and even respond to their names when called. They are also social cats, getting along well with other cats and dogs. Siberian cats have a high energy level and need plenty of playtime to keep them stimulated and happy.
Care
Despite their long, luxurious coat, Siberian cats are low maintenance when it comes to grooming. Because their fur is hypoallergenic, they shed less than other cat breeds, and their fur does not mat easily. However, it's essential to brush their fur regularly to keep it clean and healthy. Siberian cats also need regular exercise to stay healthy, so provide them with toys and playtime to keep them active.
In conclusion, Siberian cats are a stunning and unique breed that would make an excellent addition to any household. They are playful, friendly, and low maintenance, making them perfect for people with busy lifestyles. When considering getting a Siberian cat, ensure you have the time and space to give them the attention and care they need. With proper care and love, a Siberian cat will be a loyal and loving companion for years to come.