If you're on the lookout for a charming and intelligent feline companion, look no further than the Russian Blue cat. With their stunning green eyes, elegant grey fur, and distinctive personality traits, it's easy to see why these cats are such popular pets. In this article, we'll dive into all the things you need to know about the Russian Blue cat, from their origins to their temperaments, and everything in between. Let's get started!
History
The Russian Blue cat is a cat breed that originated in Northern Russia, likely around the port of Archangel. They have been in existence for over a century, as they first appeared in cat shows in London in the late 1800s. They were known as the Archangel Cat until the early 1900s when they were renamed Russian Blue due to their bluish-grey fur. Their origins may be unclear, but they are certainly a unique and special breed.
Appearance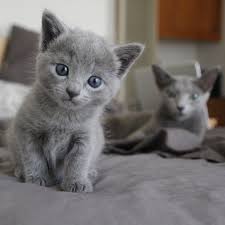 Russian Blues are medium-sized cats with short and dense fur that is usually blue-grey in color. They're well-muscled, with a sleek and graceful body that's often likened to that of a mini panther. They have stunning almond-shaped green eyes that are a hallmark of the breed, and their ears are large and pointed, giving them a pronounced sophistication.
Character
Russian Blue cats are known for being very intelligent and independent, but they can also be quite affectionate with their owners. They are calm and quiet by nature and are known to be good lap cats. They enjoy being in a routine and can be quite social with their families, but they are not particularly fond of strangers. They are generally low maintenance and are content lounging around, but they can be playful when they want to be. In general, they make for great companion cats.
Health
In general, Russian Blues are a healthy breed, with a lifespan of up to 20 years. However, they are prone to certain health problems, such as obesity, urinary tract infections, and dental problems. You can consider getting a pet insurance for these kind of health problems.
Overall, the Russian Blue cat is a unique and elegant breed of cat that can make a wonderful addition to most households. They're intelligent, loyal, and quite low-maintenance, making them a great choice for those looking for a companion cat. Just make sure you take proper care of them, and they'll reward you with years of love and affection.