The Maine Coon cat, often referred to as the "gentle giant," is well-loved by many cat enthusiasts. This domestic cat breed hails from North America's northeastern region and boasts numerous unique characteristics, making it distinct from other cat breeds. Despite its large size, it's a gentle creature with a strong personality that warms the hearts of both cat lovers and non-cat lovers alike. In this article, we'll be exploring everything you need to know about the Maine Coon cat.
Origins
The origins of the Maine Coon cat remain a mystery; however, there are numerous theories about how it came to be. It is believed that the breed developed in the New England region as a result of domestic shorthair cats being crossbred with long-haired cats that were brought on ships from overseas. According to folklore, the breed may have descended from six cats that originated from Marie Antoinette's Royal French Cattery that she sent to Wiscasset, Maine, during the French Revolution. Despite these theories, there is no concrete evidence to prove the breed's true origins. However, one thing is for sure; the Maine Coon is a hardy breed that has stood the test of time and remains a favorite among cat lovers.
Temperament
The Maine Coon cat has a friendly and laid-back personality, making it an excellent choice for families with children or other pets. They are sociable cats that enjoy the company of their humans, often following them around the house or sleeping next to them. They have a high energy level and enjoy interactive playtime, and even at their adult age, they retain their kitten-like playfulness.
Health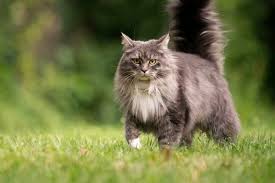 Maine Coons have a relatively low-maintenance Maine Coon cats are generally healthy and have average lifespans of 12 to 15 years. However, like all purebred cats, they may be prone to certain health issues like hip dysplasia, hypertrophic you can consider getting a pet insurance for these kind of health problems.
The Maine Coon cat is undoubtedly a magnificent breed that offers the perfect combination of beauty, personality, and intelligence. Whether you're looking for a loyal companion or an excellent addition to your family, the Maine Coon breed is an excellent choice. They are easy to care for, affectionate, and make excellent companions. It's no wonder that they are one of the most popular cat breeds worldwide.