Goldendoodles are a relatively new breed in the dog world and are quickly becoming popular as they are a mix between a Golden Retriever and a Poodle. These plush, adorable creatures are known to be intelligent, hypoallergenic, and low-shedding, making them fantastic additions to families with allergies. They're great for apartment living or those who prefer an indoor pet. They have lovely personalities, are affectionate, friendly, and good with children and other pets. In this blog post, we'll be looking at everything you need to know about the Goldendoodle breed.
Personality
Goldendoodles are friendly and outgoing, making them the perfect family dog. They're intelligent, easily trained and love human company. They're also playful and enjoy activities such as walks, trips, and fetch. It's worth mentioning that like all breeds, Goldendoodles can vary in temperament, but overall, they're known to be happy, affectionate, and sociable.
Training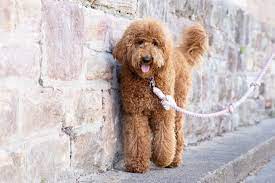 Goldendoodles are intelligent dogs; they're able to pick up training very quickly and thrive on positive reinforcement. Basic obedience (sit, stay, come) and potty training can be done quickly with consistency and positive reinforcement training. Goldendoodles are highly trainable and can be trained to perform a variety of tasks such as therapy work, and service work.
Health
Like all dog breeds, Goldendoodles may be susceptible to particular health issues. It's essential to keep up with regular veterinarian checkups, vaccinate timely, and have a proper diet to keep your Goldendoodle healthy. Some breed-specific health issues can include hip dysplasia, ear infections, skin allergies, or progressive retinal atrophy, a condition that can cause blindness. Investing in dog insurance can help prevent the financial hardship that can come from treating a pet for a severe illness.
Goldendoodles are a fantastic option for families looking for a friendly, low-maintenance pet. They're intelligent, trainable, affectionate, and love nothing more than to be a part of the family. Like all breeds, they have potential health issues that pet owners need to be aware of. However, with regular care and attention, a Goldendoodle could be a great addition to your family. Keep in mind that all dogs have unique temperaments, so, when looking for a Goldendoodle, ensure that the dog's personality suits your family and lifestyle.