German Shepherds are one of the most beloved dog breeds in the world. With their majestic posture and strikingly sharp features, it's hard not to fall in love with them. They're intelligent, loyal, and courageous–making them excellent guard dogs, search-and-rescue dogs, and even aid dogs for the disabled. In this article, we'll be talking about the history, behaviour, and incredible capabilities of German Shepherds–so keep on reading!
History
German Shepherds have a fascinating history. They were bred by a German cavalry officer named Max von Stephanitz, who wanted to create a breed that would serve as the ideal herding dog. The result was a medium to large-sized dog that's agile, intelligent, and efficient. German Shepherds have been recognized as a breed by the American Kennel Club since 1908, and their popularity hasn't waned since then.
Intelligence
One of the most impressive things about German Shepherds is their intelligence. They're quick learners and can be trained to perform various tasks, including obedience, tracking, and protection work. They're also incredibly loyal to their owners and will do anything to keep them safe. This combination of intelligence and loyalty is why German Shepherds are so often used as police and military dogs.
Exercise
German Shepherds are also known for their athleticism. They have a lot of energy and require plenty of exercise to stay healthy and happy. They excel at activities such as agility, flyball, and obedience competitions. It's important to provide them with enough physical and mental stimulation to prevent boredom and destructive behaviour.
Health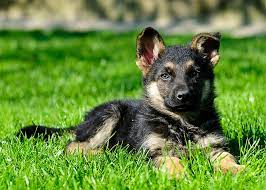 German Shepherds are generally a healthy breed. However, like all dogs, they can be prone to a few health issues such as hip dysplasia, bloat, and allergies. Maintaining a healthy diet, regular exercise, and monitoring their weight can help prevent many health problems. It is also important to have an annual veterinary exam and keep your dog up to date on vaccinations. Investing in dog insurance can help prevent the financial hardship that can come from treating a pet for a severe illness.
German Shepherds are truly incredible dogs. They're intelligent, loyal, protective, athletic, and gorgeous. If you're considering getting a German Shepherd, make sure that you're ready for a companion that will require plenty of exercise, training, socialization, and love. With the right care, your German Shepherd will make a loyal and devoted companion for many years to come.