Are you considering getting a new pet and have heard about the gorgeous Burmese cats? These felines are a popular breed and for a good reason! They are affectionate, intelligent, and playful companions that can fit into any household. In this article, we will share everything you need to know about this breed so that you can make an informed decision.
Origin and Appearance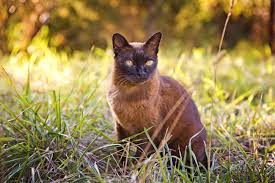 Burmese cats originated in Southeast Asia, specifically in Thailand, where they were considered sacred animals. They were introduced to the United States in the 1930s and quickly gained popularity due to their charming personalities. Burmese cats have unique coats that come in various colours, including sable, champagne, blue, and platinum. They also have expressive gold or yellow eyes and a muscular build.
Characteristics
Burmese cats are known for their affectionate, playful, and communicative personality. They love to snuggle and follow their owners everywhere, making them an ideal lapcat. They are intelligent and agile, making them excellent hunters. They have a strong sense of curiosity, and they love to play with toys, puzzles, and even other pets.
Health and Care
Burmese cats are generally healthy but common diseases can occur. They require daily grooming to keep their coat shiny and healthy, and their ears need to be cleaned regularly to prevent infections. Investing in cat insurance can provide you with peace of mind in the event of unexpected health problems They need high-quality cat food that meets their nutritional needs and plenty of exercises to maintain their muscular physique. It's also essential to provide them with a stimulating environment where they can play, climb, and explore safely.
In conclusion, Burmese cats are a delightful breed that can bring lots of joy and happiness to any household. They are loyal, loving, and playful, making them the perfect family pets. If you're looking for a feline companion who will follow you around the house and be your loyal shadow, a Burmese cat may be the perfect match for you. With a little love, attention, and care, they can become your best friend for life.